The Margin of the Artist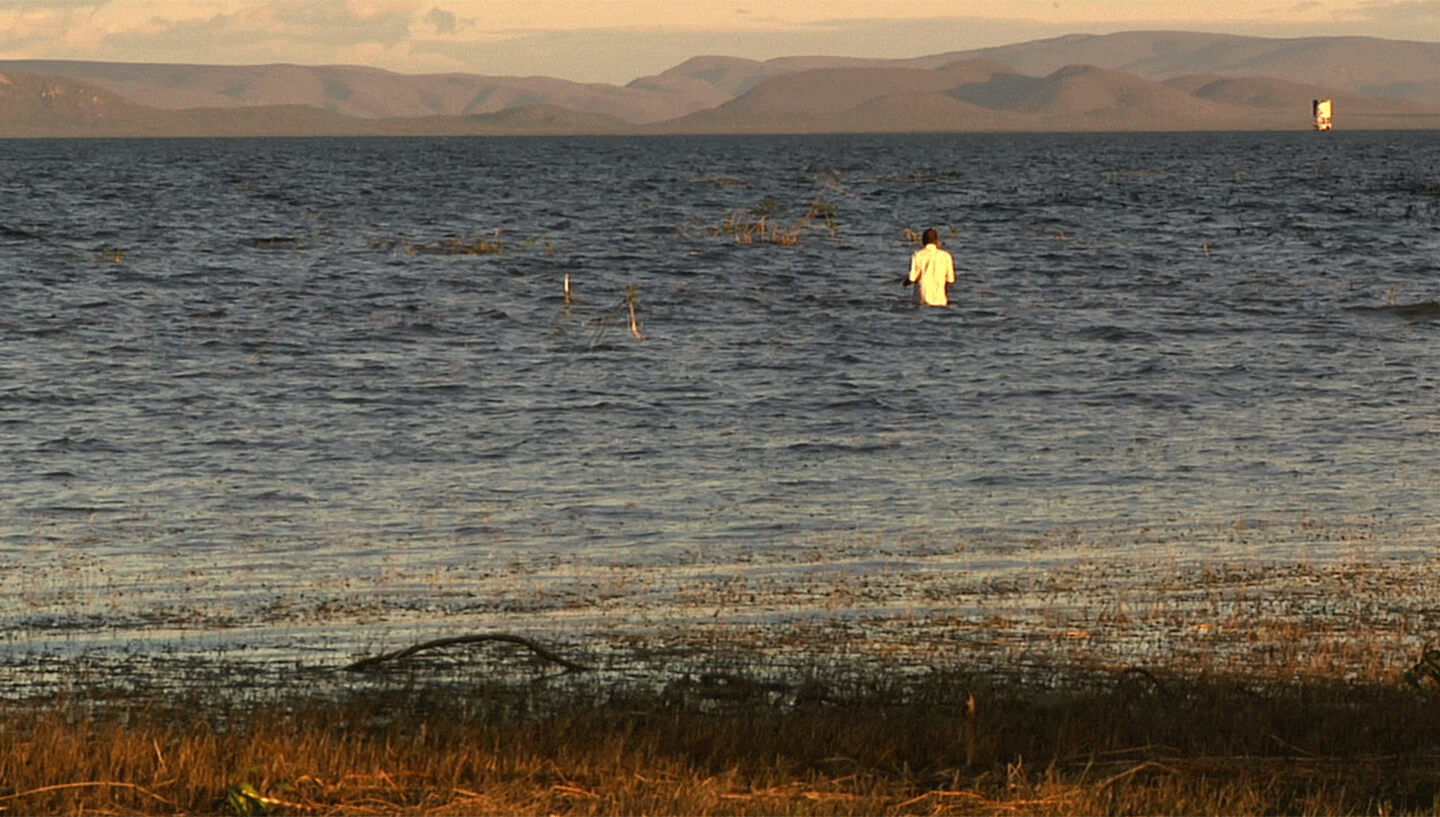 Caetano Dias, "1978 Cidade Submerse", 2010, video, © Caetano Dias
Between the Politicization of Art and the Aesthetics of the Politics: the Margin of the Artist
In today's state of generalized economic, social, even moral crisis[1], which is notably leading to a serious questioning of the free-market model which underpins our contemporary societies, it seems natural that artists should now more than ever seize upon the "res publica" (the public affair) through their works; or that artistic forms should find themselves directly affected, and even transformed, in their modes of production.
Historical events and shifts in society have certainly had great impacts on artistic practice before. For example, we were reminded recently by the exhibition 1917 at the Centre Pompidou Metz, in France's East region, that the deadliest and most traumatizing year of the First World War was also the year of a very important artistic effervescence, giving rise to or reinforcing avant-garde movements which brought forward new artistic and engagement forms.
We speak today of a potent return to the politics within art, but what do we mean in saying this? If every artistic event is political in its public presentation as affirmed by artist Joseph Beuys with his concept of "Social plastic", then have these two fields ever been autonomous?
Does "making political art" imply a direct engagement of the artist within the public sphere with a work, which has an immediate and quantifiable form of effectiveness, able to change and even renew the frameworks and principles of communal living, to overturn systems of authority? Is this to find "artistic equivalents for political positions" as remarked by Claire Bishop[2] in her book on the history of participatory art?
We have seen in recent months in the United States how the spontaneous actions of citizens have been accompanied by artists who have themselves produced new movements in the world of art: occupy wall street has given rise to occupy museums, denouncing the hold on art by neo-conservative models and the market, as well as the role played by large, so-called legitimating institutions as the situationists had done before them. The situationists indeed aspired to the removal of art as social field determined and regulated by the institutions and by the art market, attacking for instance the AICA in 1958 in Brussels at an annual meeting, through a very violent tract against them: "Disappear, you art critics, fools and partial … incoherent and divided. The International situationists will not give way to you. We will starve you "[3]. Moreover, the radical intentions of the situationists have meanwhile been hijacked by the new generations of artists without keeping the original project of surpassing art, and have even served to renew the same artistic frameworks, which they had sought to break with. From Fluxus to relational aesthetics through the figure of the walking artist engaged within the city in a psychogeographical experience, the requirements of situ are ever present in art today, often as a guarantee of certain radicalism. Far from having killed art and its institutions, the situ movement, through its heritage, actually opened its borders; "it allowed its successors to claim as artistic operations (finalized or not to works proper) first the invention of new behaviors, new attitudes, new discourses, and secondly the invasion of social or ordinary life by the sword of criticism and disruption "[4].
As Arnaud Label Roujoux said, "After the end of art, what? Art."
We could ask ourselves if the same phenomenon of salvaging and the eventual dissolution within current events does not also await the occupy movements given the invitations extended to them by large institutions, and biennials such as the 2012 Berlin Biennial.
If political art is radical art, what visual forms does this radicalism produce? Stéphanie Lemoine and Samira Ouardi use the term "artivism"[5] to designate and catalogue new militant artistic movements in the public sphere from "carnival against capital" to "militant sambas." These movements primarily seen on the American continent would thus speak to "an aestheticization of the political," generating a visual vocabulary, which is hybrid and original.
In France, following the critical tradition of connecting art more generally to the human sciences and avant-garde Marxist thought, art in the public space has shifted since the 1980s and '90s to the social field. Through their work artists describe the often harsh realities of urban life concerning for example immigration and the failures within our republic with regard to integration. We designate under the term "aesthetic documentary" an entire section of photography and video whose inspiration and artistic material is drawn from our social situation. Moreover, in what Nicolas Bourriaud coined as "relational aesthetics" at the end of the '90s, many artists utilizing so-called performative interventions worked towards a more direct engagement with public space. They played the role of agents, mediators between a designated group and a public audience. Here, art becomes a social praxis mediated by the institution.
Finally, there are those who in the manner of a Baudelairian flâneur, the storyteller of Walter Benjamin, and of course Guy Debord and his theory of the derive, roam through the city, offering spectators new experiences of places and landscapes through works inspired by their own wanderings. Their often poetic readings and displaced narratives aim to redefine our communal living spaces and produce a means of re-enchantment. Here, art in the city oscillates between documentary reportage and the delivery of a poetic vision producing a narrative.
These different practices from artivism to documentary and relational aesthetics illustrate different means of engagement and connection to the city and the public, but what aesthetic term can be used to refer to these artistic forms and movements?
Below, I would like to introduce the work of artists who in my opinion illustrate other forms of engagement in the public sphere and who offer through their works new ways of exploring the relation between art and politics in redefining aesthetics.
From Documentary to Art
Justine Triet is an artist based in France whose artistic practice lies in the confluence of film, documentary and video art. Her films illustrate a shift from social and political documentary to another domain, that of art through an exercise of vision, by which she explores her subjectivity. In her films, Triet identifies and selects social situations characterized by a heavy tension (student demonstrations, or the final days of an election campaign), and she "shoots" the faces and characters, seized by the intensity of the moment. "Sur Place" was shot during large demonstrations in Paris in 2006, protesting a proposed revision to the CPE[6] labor law, which would have removed key protection for young workers. While this is the starting point for the work, we quickly lose sight of the precise context, only to be swept up by the film and its editing rhythm, built as a music or an opera score marking different tempos Allegro, Adagio, Presto. We observe the dance of the forces at play: young rioters pitted against the police force, journalists on the lookout for shocking images for their editors, etc. The large crowds around them form a compact mass, uniform and raw, setting off in the same direction, propelled by the same impetus. Its rumbling punctuates the comedic sketches of the young rioters which it surrounds like a Greek chorus. We are present before the theatrical representation of a battle. Like Steve McQueen, who placed emphasis on political struggle through the use of his body, she frames the gestures, the footwork. . . Music accompanies the film's dramaturgy and like a musical score, the sequencing of images following rhythmic variations made from "imperfect cadences" in order to heighten the action before the final calm.
The artist begins with a situation within a markedly political and social context but surpasses the dimensions of documentary and narrative to which it is attached in the way that she handles the images and mise-en-scène. In this manner, the artist reveals ambiguity and undermines stereotypical portrayals of this sort of event relayed by the media in a too often Manichean and biased manner. The artist does not claim to deliver authoritative lectures on the social event and without doubt it is for this reason that her work evades determinism and dogmatism: as we watch the film, we cannot make a clear judgment to condemn either the young protesters' violence or the police brutality; seeing the final frame, an image of an injured young man, we catch our breath and yet remain enduringly affected.
Art in front of History
The question of autonomy and emancipation is central in articulating the relationships between art and politics. The emancipation of artistic practices from academic norms was played out most dramatically in the 19th century, though that of the artists themselves is less evident. If the studio is a space of freedom by means of the inventive potential of forms and the infinite vocabulary of art, when the artist asserts an engagement within the public sphere, how does he preserve this creative freedom?
The artistic avant-garde of the 20th century[7] claimed this freedom through their practices, but were they not placed, despite themselves, in the service of a political project which went beyond them and which they did not discern? Is not the modernist project itself in art and architecture in its ideal of emancipation and progress placed in the service of political projects that are often authoritarian.
The history of art is built with and against geopolitical history, and this collusion as well as the duality of this heritage informs the work of Portuguese artist Ângela Ferreira (http://angelaferreira.info/).
Ângela Ferreira has lived in Portugal and in South Africa, where she was born. From her diasporic African origin, which is deeply instilled in her artistic reflection, she explores in her works (installations, sculptures, photographs) the complex and ambivalent relationships of Europe to this continent, reinvesting histories and references of modernist and constructivist art and architecture within Black Africa. From Tropical Houses – the ideal residential units of Jean Prouvé sent to the colonies from France and then, ironically, recently stolen and sent back in order to sustain a fast-developing international design market[8] – to images of buildings from the colonial era, abandoned relics of modernist architecture over which the natural African scenery has resumed its place, her works echo the muted violence of a self-centered Occident and the failure of a modernist utopia promising progress and emancipation through art.
"Ultimately then, the contemporary reproductions of the Maison in text and images reinforce Theodor Adorno's idea of a "culture industry" dedicated to the self-preservation of the center, producing and reproducing cultural products that represent, in this case, colonial domination as both universal and natural. "[9]

Her sensitive and committed viewpoint has been shaped by an identity, which swings between Africa and Portugal and which permits her to adopt a doubled perspective, offering us a vision which is never univocal of the social and political history of these regions through the prism of art and architecture.
"My project invites to look again at the moment when we believed it, to look at what we believed in order to better understand the reasons for failure. How can we invent, how can we succeed to construct a new utopia without understanding what went wrong and why it went wrong? My project is obviously critical, but it is equally full of hope."[10]
From Creative Individuality to Engagement through the Collective Body: Looking and Acting
The work of Caetano Dias is characterized by the use of different mediums (sculpture, painting, photography, performance). The root of his work lays within the multicultural identity of the city of Salvador, where there is a large population of African descent founding an Afro-Catholic religious syncretism, a mixture of Catholicism and indigenous rituals. His work must be perceived within its attachment to the context, that of Salvador. This is the point of departure which informs his works but from which they soon free themselves in transforming into strong visual experiences. The art he creates is not sociological insofar as he does not seek to demonstrate and explain a social context, which we know to be tough and quite inegalitarian in Brazil. The body, in both its individual and social collective forms, is very present in the works where he mixes sensuality with spirituality, paganism and religiosity, gentleness and violence. He shows the vulnerability or the shackling of bodies, as in his video O mundo de Janiele http://crac.languedocroussillon.fr/exposition_fiche/33/3171-archives-expositions-art-contemporain.htm: "the question of politics is firstly that of the ability of any body to take hold of its destiny."[11] In his films, the image is felt more than it is contemplated.
There is a strong relationship to painting in the work of Dias which draws attention to the frame of the image, presenting us genuine tableaux vivants. In 1978 Cidade Submersa, he describes the relationship between a man and the city which he comes from, Remenso, submersed in 1978 in order to build the Sobradinho Dam in the northeast of Bahai. We accompany this fisherman as he reconstructs a personal geography, which calls up the relics of this lost ancient city. The documentary images blur and transform into aquatic and fantastic visions while equally appearing to be the projection of the man's memories. Caetano Dias speaks to us about the complexity of territories subjected to their histories. His images describe in silence the memories which no longer have a place, an invisible and metaphoric city. Dias also engages himself directly within the social environment of his city as he regularly develops cultural and artistic projects in the favelas of Salvador, for example while working with groups of children. In his project Canta Doce, he constructed walls of sugar, which the children of the favelas could symbolically overcome in eating them.
These three artists demonstrate a strong willingness within their work to exercise their creative freedom, and through them, they offer an exercise in freedom for the spectator. These artists do not prejudge the effects of their work nor do they anticipate the responses of the spectator, and without doubt this is why they remain open and are "political." They call for a free exercise of looking in articulating the "I" and the "we" within a common experience of the sensible.
As Jacques Rancière recalls, the political impact depends upon its aesthetic distance:
"A critical art is an art which knows that its political impact depends upon its aesthetic distance. It knows that this effect cannot be guaranteed, that it always includes a measure of uncertainty."[12]
[1] Stéphane Hessel,
Time for Outrage: Indignez-vous!,
Quartet Book, London, 2011[2] Claire Bishop,
Artificial Hells: participatory art and the politics of spectatorship
, Verso, London / New-York, 2012 , p.3
[3] Extract of tract in IS n°1 juin 1958, p.29 in   « Le Mouvement Situ, une histoire intellectuelle », Patrick Marcolini, l'échappée 2012, p. 45
[4] Patrick Marcolini, Le Mouvement Situ, une histoire intellectuelle, l'échappée 2012, Paris, p. 255
[5] Stéphanie Lemoine et Samira Ouardi, Artivisme: art, action politique et résistance culturelle, Alternatives, Paris 2010
[6] CPE : first employment contract
[7] This is evident in the relationship between Futurism and the fascist movement, but also in the closeness of Cubism with a socialist philosophy and related political groups
[8] Three Maisons Tropicales were shipped from Prouvé's factory in France to Niger around 1950. In 2000, prototypes were removed and repatriated to France. In June 2007, one of Jean Prouve's prefabricated aluminium bungalows stood in New York, beside the Queensboro Bridge, before being sold at Christie's auction and bought by an hotelier for $4,968,000, finally to be presented today near the Tate modern. A second one is now displayed on a terrace at the Pompidou Center, in Paris. Another is being restored to be presented to an audience in the South of France.
[9] Extract of Jean Prouvé's Maison Tropicale in New York, by D.J. Huppatz, in « Critical Cities: Reflections  on 21st century culture », May 31, 2007
[10] Interview with Ângela Ferreira for www.lesartistescontemporains.com, 2009
[11] Jacques Rancière, Le spectateur émancipé, La fabrique, 2008, Paris p.88
[12] Jacques Rancière, Le spectateur émancipé, La fabrique, 2008, Paris p.91