Resilient Images / Hyde Park Art Center - CRP/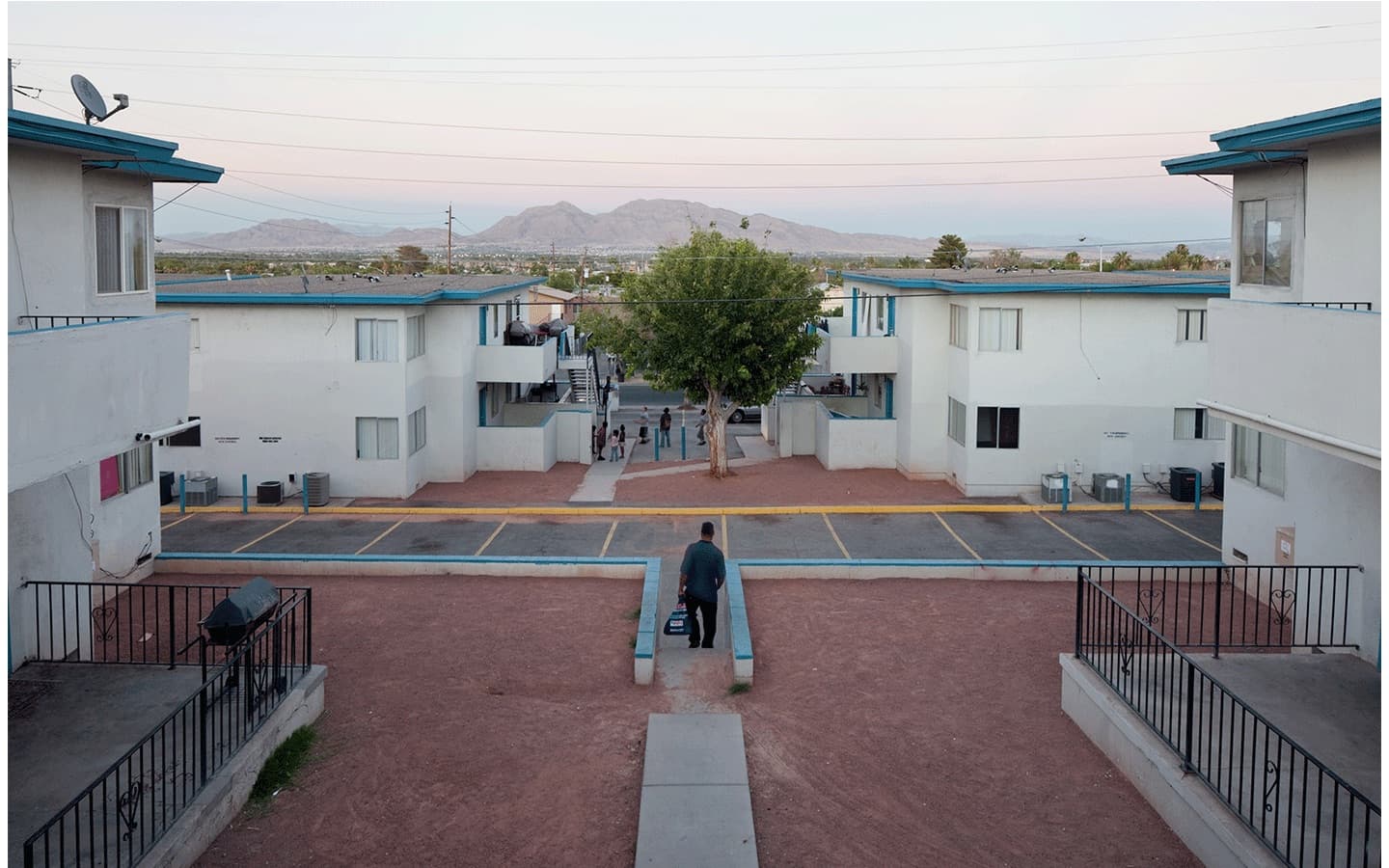 David Schalliol, "Walking Home, Los Angeles CA", 2013, © David Schalliol
A joint art residency project
June 2016 – June 2018
Between the CRP/ and the Hyde Park Art Center (Jackman Goldwasser Residency) in Chicago, with support from the John D. and Catherine T. MacArthur International Connections.
"Resilient Images" is also supported by The Cultural Services of the French Embassy in the USA.
The CRP / is pleased to announce the creation of a joint art residency between Chicago and the Hauts-de-France / Douchy-les-Mines region.
The CRP / has won a grant from the MacArthur Foundation along with its partner the Hyde Park Art Center in Chicago, making it possible to set up an exchange of French and American artists from 2016 to 2018. This exchange is based on the HPAC / Jackman Goldwasser Residency Program, which has been developing for many years now. It is an art school and art centre that aims to stimulate and make a contribution to the city's art scene, to support research and the creation of new works, and bring the Chicago art scene into dialogue with other art scenes around the world.
Chicago and Nord-Pas-de-Calais-Douchy-les-Mines have similar social and cultural histories, both having an industrial past that shaped their regions and attracted different immigration waves. These histories are what their art scenes were built on. When many of their industries collapsed, culture became a factor in the reconstruction of these two regions, as well as a factor of development and ultimately of resilience.
The project will consist of a six-to-eight-week residency for two artists working in the field of photography and film. It will be followed by two solo exhibitions, presenting newly produced works both sites, in Douchy-les-Mines and in Chicago. The two residents chosen for this year's programme are Justine Pluvinage of France and David Schalliol of the United States.
Hyde Park Art Center : www.hydeparkart.org
David Schalliol earned his Ph.D. in Sociology at the University of Chicago. His work explores the transformation of urban centers through ethnographic, filmic, and photographic projects. His writing and photographs have appeared in such publications as Social Science Research, Places, and The New York Times, as well as in numerous exhibitions including the inaugural Belfast Photo Festival and the Museum of Contemporary Photography's Midwest Photographers Project.
Justine Pluvinage completed her education at L'Ecole Nationale Supérieure de la Photographie in Arles, France. Her video and film work often adopts the documentary format, portraying intimate relationships among people and oscillates between realistic and dreamlike states, between observed time and narration. She has participated in exhibitions at Rencontres d'Arles, the FOAM in Amsterdam, the Ball in Paris, the Palais de Tokyo. She is the 2013 recipient of the Grand Prix at the 58th Salon de Montrouge.