Performance Invisible /
«Observer, écrire, recevoir»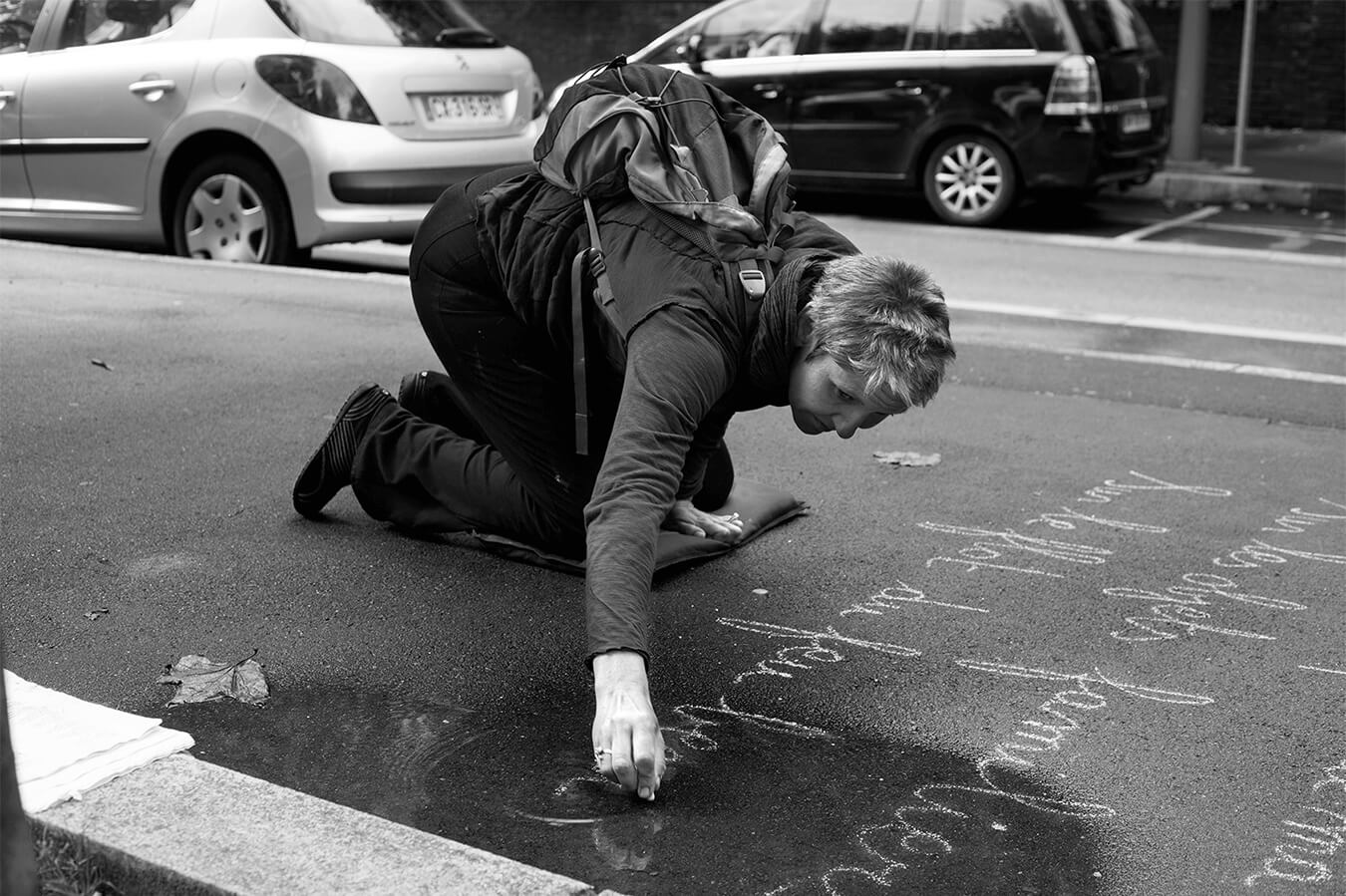 Performance de Béatrice Didier, Boulevard de la Liberté à Douchy-les-Mines. ©Quentin Derouet
Neighborhood and Invisible Performance in French Hainault ("Observing, Writing, Welcoming")
24 August – 9 September 2015
Christophe Alix / Raphaël Balboni / Béatrice Didier / Mélanie Peruzzi
Residency project produced by the CRP/ with support from the CAPH.
Artist Christophe Alix, along with performer Béatrice Didier, photographer Mélanie Pedduzi and filmmaker Raphaël Balboni, lived in Douchy-les-Mines for three weeks, meeting its inhabitants, inviting them to discuss their living conditions and everyday activities and also to take part in convivial events at Maison Joliot Curie.
In no way is this project's program based on the spectacular aspect of performance. It is not a matter of creating or offering a show, or even leading people to publicly express themselves about a subject. The participants moved in to a house in a district of the town of Douchy-les-Mines, having little knowledge of the particular environment or that of the people living nearby. The primary objective was to get acclimatized to a particular environment and gradually attempt to build bridges with the inhabitants of the district, the city and the Hainault agglomeration. Among other things, this project is inspired by the works of Augusto Boal and by his invisible theatre during the dictatorship in Brazil. Meetings, discussions and exchanges also took place in the privacy of the house, making it possible to establish a more intimate relationship between participants and guests, though these also more spontaneously extended into other, public spaces. The real goal was to create links and sociological analyses through performance within a targeted network in Douchy.
This period of residency was the subject of an initial reconstruction at Maison Joliot Curie in Douchy-les-Mines, where films, photographs and texts were placed in the space by the four artists. All of the inhabitants of Douchy-les-Mines who participated in the project were invited. An exhibition project at l'Imaginaire, Centre des Arts et de la Culture de Douchy-les-Mines is being prepared for 2017.
Christophe Alix is a performance artist, an interdisciplinary and artistic project facilitator, as well as a performing arts teacher and researcher. He is currently director of the École supérieure des arts de l'image Le Septantecinq (ESA LE 75) in Brussels. Before arriving in Belgium, he worked in England for nearly twenty years as a teacher-researcher and artist. He received a PhD from Aston University for his thesis on the relationship between politics, performance and directing oneself and others, then joined the School of Arts and New Media at the University of Hull (UK), where he was Lecturer in Theatre and Performance Studies and interim director of the department. Since the mid-1990s he has been exploring the representation of the body in its theatrical (The Well-Established World, 2010-13), technological (Cuisine, 2008-11) or performative textuality. For many years, Christophe Alix has been defending the place of artistic practice as fundamental academic research in higher education. He is also frequently invited to write on this subject. He has published numerous articles and essays on kitsch, educational methods in art, subversion and transgression, art and activism, and queer performance as a tool offering an alternative to traditional representations of gender and sexual orientation. He is currently preparing a monograph on an introduction to performance, as well as a project of invisible socio-artistic performances in Douchy-les-Mines with a view to an exhibition in 2016.
Raphaël Balboni: Born in France in 1978, based in Belgium since 2001. Bachelor's Degree in Performance/Cinema Arts from Paris 8 University (2001). Graduate of the directing/cinema department of the IAD art college (Institut des Arts de Diffusion) in Louvain-la-Neuve, Belgium (2006). While studying, he began his practical training in the contemporary art world. He has directed several documentaries and collaborated on the development of art films, particularly with engraver Cécile Massart, sculptor Van de Velde, visual artist Ramsà and video artist Bruno Goosse. His creative work is influenced by his experiences, and he is now concentrating on directing narrative films. After travelling with his end-of-studies short film les habitants, he formed a partnership with Ann Sirot. This collaboration has already given rise to four short films: Dernière Partie, Juste la lettre T, La Version du Loup and Fable Domestique in development with Jean-Yves Roubin (Frakas Productions).
www.sirotbalboni.com
Mélanie Peduzzi: Born in 1989 in Bretagne. She obtained a DNAP from the École supérieure des Beaux-arts de Quimper in 2010. The following year, she went back to her Belgian roots and attended La Cambre school of visual arts, Brussels, specializing in photography. She obtained a Master's with distinction in 2013. Alongside the visual arts, she participated in body language workshops: dance, writing, performance. For example, she has had the chance to work with Sabine Macher, Lucille Calmel, Christophe Alix, Stéphanie Lupo, Gwendoline Robin, Monica Klinger and Patricia Kuypers. Since September 2011, she has been engaged in an immersive exploration of the world of prostitution. It is a multi-year project based on photography and writing. She also performed in a play by Madely Schott entitled TEKELAMA, presented at several festivals in the context of the Laboréales. Recently, she also took part in the opening of an experimental art space, LE KABINET in Schaerbeek.
Béatrice Didier: Born in 1971, a graduate in theatre at the Royal Conservatory of Brussels, Béatrice Didier taught and practiced theatre arts in several companies with several directors (including Frédéric Dussenne, Xavier Lukomski, Pascal Crochet, Mathieu Richelle and Veronika Mabardi) before turning to performance art. Trained by Boris Nieslony and Monica Klingler, her work in this field has been presented at several events, galleries and festivals in Germany, Austria, Belgium, Ireland, Denmark, Finland, India, Myanmar, etc.
http://paersche.org/artists/beatrice-didier/
http://beadidier.blogspot.com/